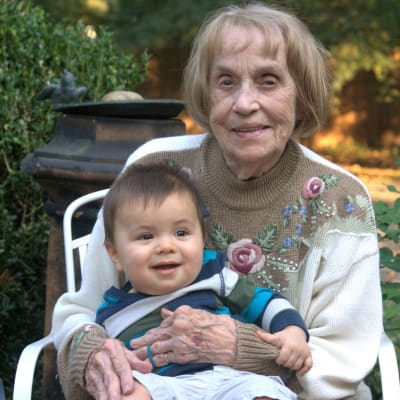 The Innkeepers
Doris McIntosh Webb (1930 to 2016) and Great Grandson Jacob Gier
The Webb Family


Amy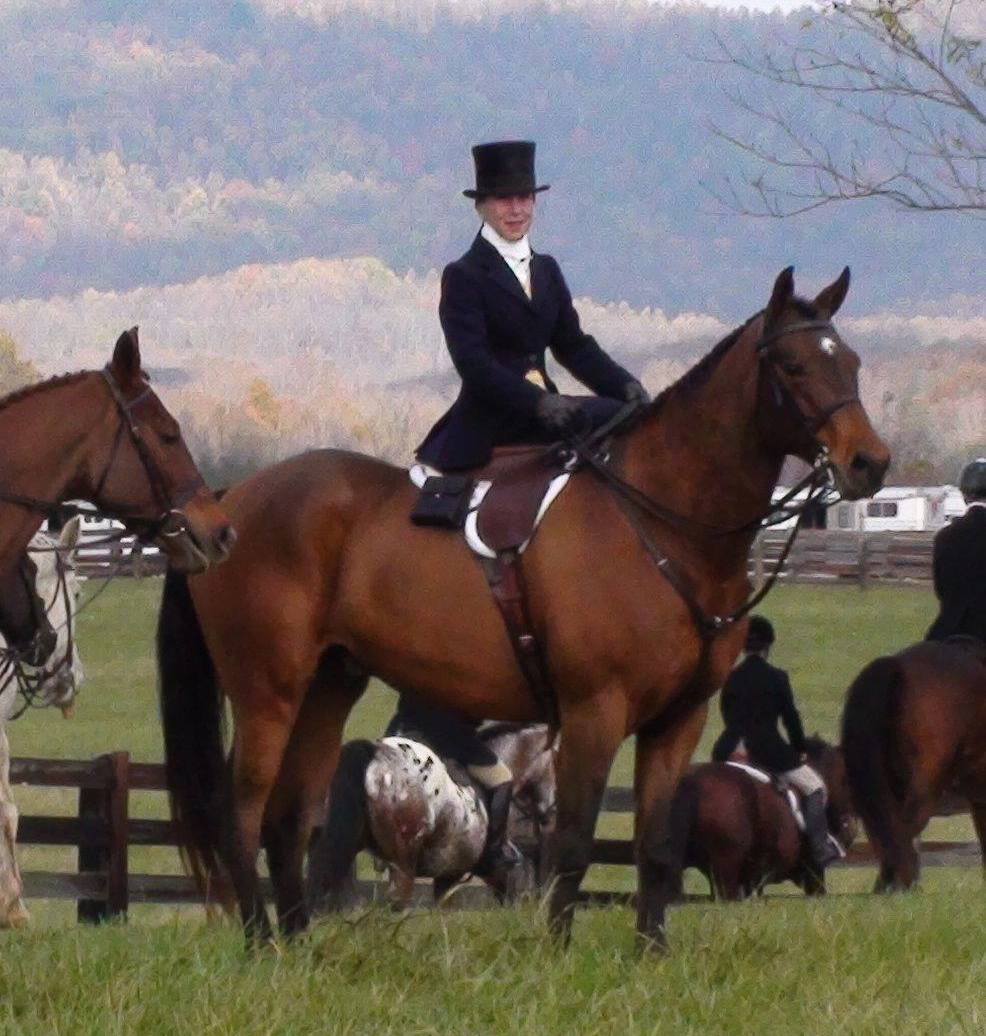 Amy Webb-Walker graduated from Virginia Intermont College with a B.A. degree in Equine Studies and Psychology. Amy worked as assistant instructor to the Equine Director of Virginia Intermont College. Amy has 25 years experience as a Professional Equestrian, showing hunt seat, side-saddle, and training horses and riders for the show ring.
Amy co-authored the book "You're on Stage!" (Image Etiquette, Branding and Style) on the Do's and Don'ts of Social Etiquettes.

Alan
Alan Webb attended Geneva College as Biology major. Then he became a Department of Defense Bases government contractor. He started his own company doing renovation projects on the Albany Marine Core Logistic Base in Albany, Georgia. Before he retired, his last project was a fire station in Panamá City, Florida for the Navy. Alan is now back in college part time finishing his Biology major.
Alan, having restored several historical buildings in York, Pennsylvania and in Georgia is currently serving as a consultant on construction in the restoration of The Historical Institute Building at the National Beagle Club in Aldie, Virginia.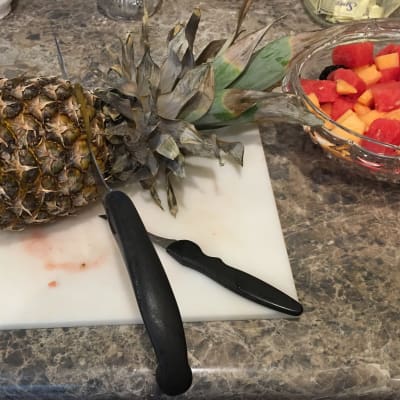 Breakfast
It's morning at the Ebenezer House; the first thing you notice you are being awaken with mouth watering aromas wafting up the stairs and into your room and it only gets better from there on!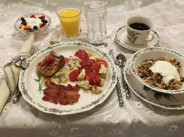 We serve only homemade items for our breakfast. My mother always told me that breakfast is the most important meal of the day and she was right, but then she would hand me a glass of instant breakfast a hand full of vitamins and out the door she went to her job. Well that was, the thinking of the 1950's-60's. Today as we have learned; homemade, grown locally, organic and sustainable foods not factory produced are the healthy choice for ingredients and then prepared and cooked, when you're going to eat them, and they also taste better. That's how we cook your breakfast at The Ebenezer House Bed and Breakfast. We serve your breakfast buffet style, but everything was freshly purchased the day before and prepared and cooked just moments before you eat it.
Our breakfast is three main courses with fresh fruit, our famous homemade Granola, sweet pastry, different breads for toasting and of course great coffee, different tea's and fresh orange juice.
The main courses are chief's choice but you can make special request, depending on availability, and with advance notice, remember all ingredients are purchased fresh. Usually little or no advanced notice is need to accommodate special diets or food allergies.
We believe that any meal including breakfast should cover all the main flavors; sweet, salty, not so much on bitter, meats, eggs, starches, vegetables and fruit. Meats always served separately.
Some sample menus:
Ebenezer French Toast and warm Vermont maple syrup with sausages patties, hash brown potatoes, homemade granola topped with vanilla yogurt, freshly cut fruit salad, breads and homemade scones
Mediterranean influenced eggs with pan fried bacon and Belgian waffles, homemade granola topped with vanilla yogurt, freshly cut peaches and homemade hand whipped cream. Scratch made corn bread.
There are many more and we're always working on new recipes.

Full breakfast is serviced at 9:00am and is keep out and warm and moist until 10:00 am. But if you need to leave early all the sides are available by 7:30am- homemade granola with vanilla yogurt, various breads for toasting, sweet pastry's, coffee, tea and orange juice. Need to leave even earlier, coffee and teas are available at the single serve coffee machine in the common areas.
Pets & Kids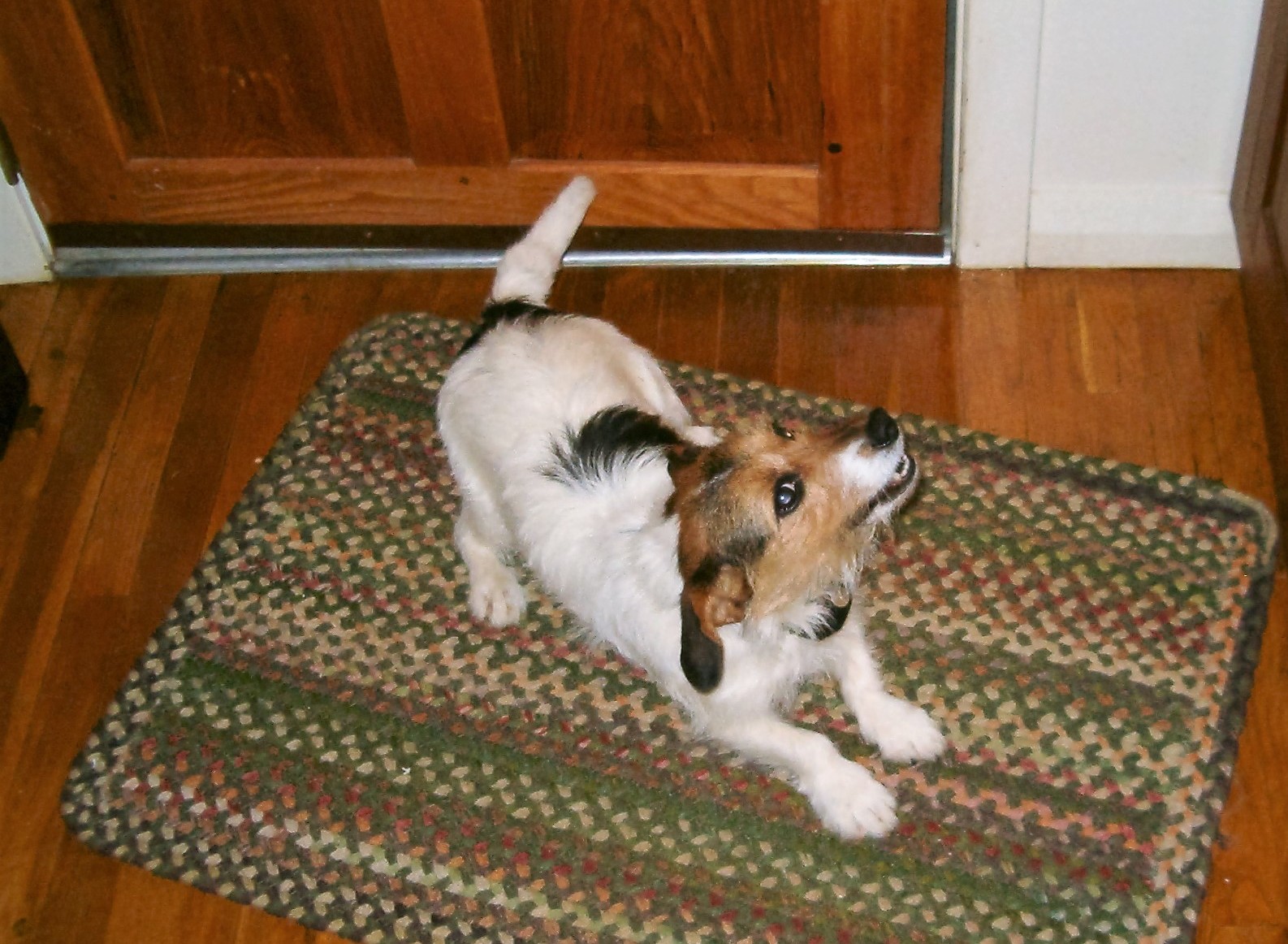 We are a family friendly bed & breakfast.
Your children and your pets (sorry, no cats) are a part of your family and now ours.
We have 3 acres for them to run and play.
There are many family friendly activities near by that are also pet friendly.
Flat screen TV's are in all the common areas. Our game lounge even has an X-box one so bring their favorite X-box games. Our satellite TV system has cartoons and other kid friendly shows.
This area is steeped in history and the men that created the United States, but the museums won't allow pets so we have arranged to have pet sitters available for an additional fee (please call or email for details).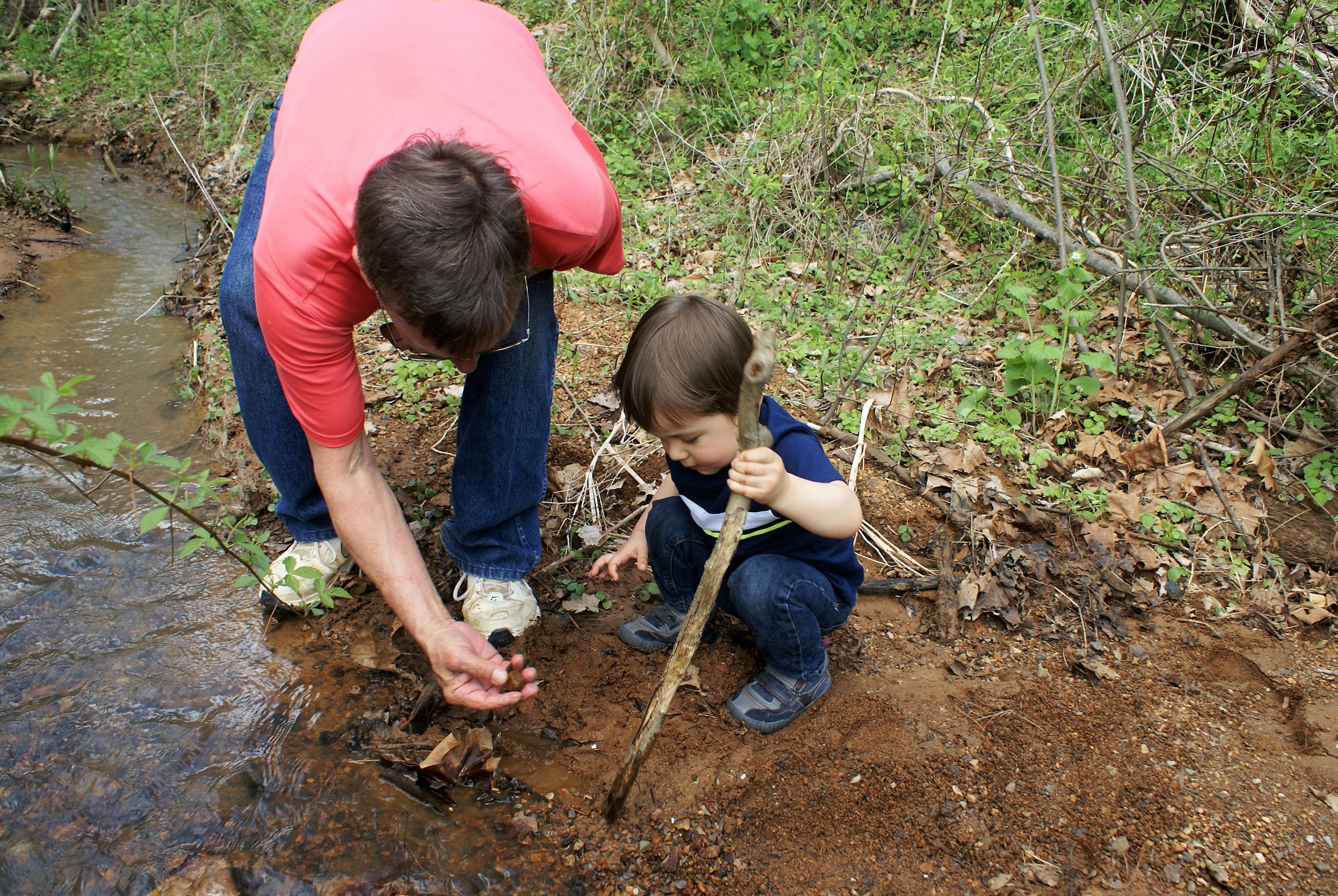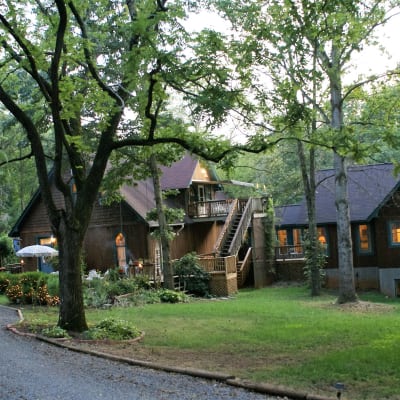 History of Ebenezer House
Our facility; The history of the Building. The original part of our Bed and Breakfast was built in 1901 on land in the County of Culpepper and the State of Virginia bought by the Clarkson Tabernacle Committee appointed by Mt. Airley Methodist Church in 1897. The land was transferred to The Ebenezer Methodist Church for the sum of five dollars' cash in hand and the following personal property; One bay horse called Tom, one McCormick Binder, one McCormick Mower, one Bickford and Huffman Drill and one Studebaker wagon.
Having been used and then abandoned for many years, the building was offered to anyone who would remove it from the property. A local Madison fine furniture maker took them up on the offer, he owned 3 wooded acres of property near the Rapidan River. The way he moved the building was to disassemble it board by board.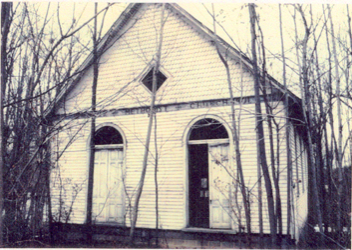 He then re-assemble it on his property.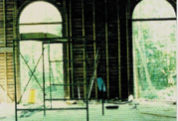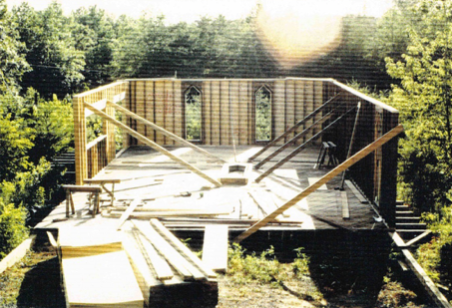 Then within the existing structure, he added a second floor,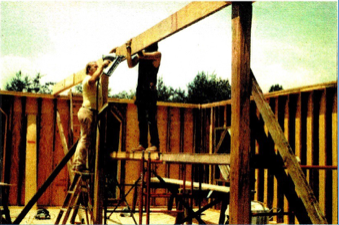 Interior walls and two dormers to increase the living space of the second floor.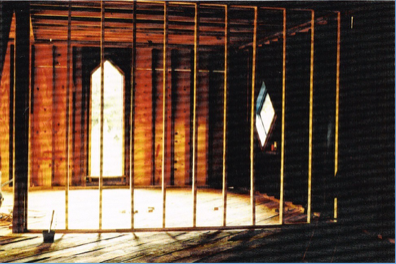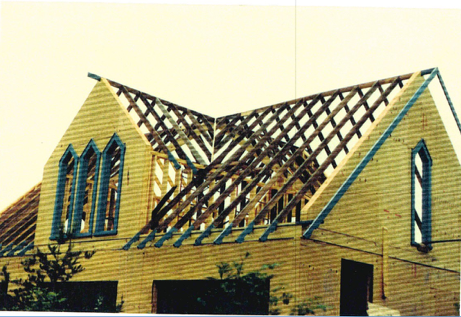 With all this complete, he had a place for his family to live and a place for him to build beautiful furniture.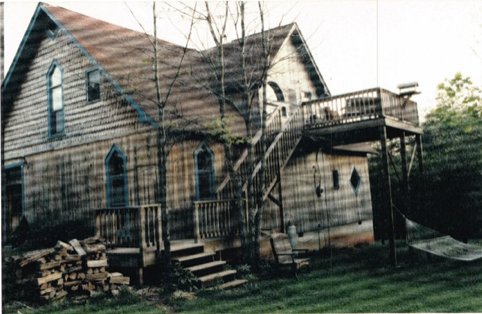 In 2001, Doris McIntosh-Webb bought the property and turned it into The Ebenezer House Bed and Breakfast.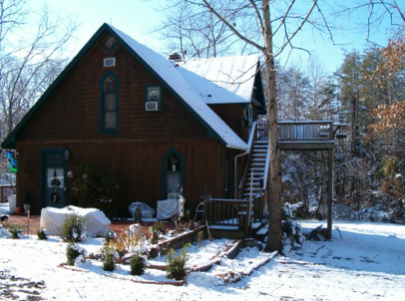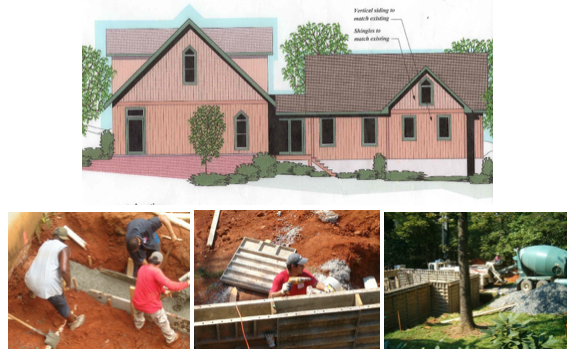 Four years later, Alan (her Son) expanded the building.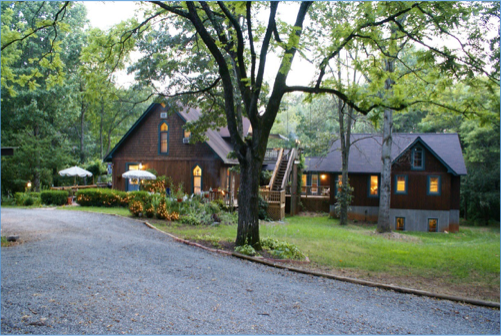 The Ebenezer House Bed & Breakfast today.